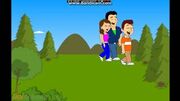 4 Wild Animals 
is the seventh episode of Season 1. It is also the seventh episode of 
Teletubbies GoAnimate.
4 Wild Animals

Season

1

Episode

7

Magical Event

Little Bo Peep and her Sheep

Air Date

July 14, 2013

Preceded by

Followed by
The Teletubbies play a game called "This Little Teletubby" which has Dipsy going for a walk, Po stays home, Tinky-Winky has Tubby Custard and Laa-Laa has none (or does she?) Then they watch Andy Brown teaching 2 kids about rabbits, turkeys, bears, and pandas. Po is looking up at the sky. A Voice Trumpet rises and sings about it. Some white clouds come and turn grey and it starts to rain. Po hurries inside and watches the rain from her bedroom. When the rain stops, Po goes back outside. She sees a puddle and sees her reflection in it. Finally, the Teletubbies watch Little Bo Peep and her Sheep before Tubby Bye-Bye.
Paul - Tinky-Winky

Eric - Dipsy

Julie - Laa-Laa

Shy Girl - Po

Brian - Narrator

Joey - Voice Trumpet (Male)

Zack - Zachary (TV Event)

Amy - Mary (TV Event)

Dallas - Andy Brown (TV Event)

Young Guy - Flowers

Ivy - Flowers

Princess - Clouds

Belle - Little Bo Peep (Magical Event)

Zack - Sheep (Magical Event)
This is the first appearance of Andy Brown, and Little Bo Peep and her Sheep.