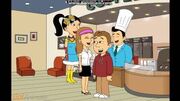 Bakery Trip 
is the third episode of Season 1 and the third episode of 
Teletubbies GoAnimate
. 
Bakery Trip

Season

1

Episode

3

Magical Event

3 Ships

Air Date

July 10, 2013

Preceded by

Followed by
The Teletubbies listen to a Voice Trumpet as it says the rhyme, "How Now Brown Cow?" Then, they watch a family go to a bakery and get some treats. Then, they listen to music indoors. Finally, they watch the 3 Ships before Tubby Bye-Bye.
Paul - Tinky-Winky
Eric - Dipsy
Julie - Laa-Laa
Shy Girl - Po
Professor - Noo-Noo

Joey - Voice Trumpet (Male)

Brian - Narrator, Leo (TV Event)
Allison - Rosie (TV Event)
Kalya - Mommy (TV Event)
Zack - Cashier (TV Event)
Susan - 3 Ships (Magical Event)
This is the first appearance of the Noo-Noo, Mommy (Kalya), and the 3 Ships.
This is also the first itme only one adult plays in a TV Event.