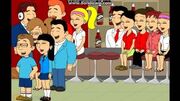 Family Party 
is the fourth episode of Season 1 and the fourth episode of 
Teletubbies GoAnimate
. 
Family Party

Season

1

Episode

4

Magical Event

Dancing Bear

Air Date

July 11, 2013

Preceded by

Followed by
The Teletubbies have some Tubby Custard. Then, they watch a family having fun at a party. Then Po finds a beautiful star. Finally, they watch the Dancing Bear before Tubby Bye-Bye.
Paul - Tinky-Winky
Eric - Dipsy, Dennis (TV Event)
Julie - Laa-Laa, Cousin Julie (TV Event)
Shy Girl - Po
Brian - Narrator
Millie - Voice Trumpet (Female)
Jennifer - Emily (TV Event)
Joey - Voice Trumpet (Male), Uncle Alex (TV Event)
Susan - Mommy (TV Event)
Zack - Daddy (TV Event), Uncle Max (TV Event)
Steven - Uncle Steven (TV Event)
Princess - Cousin Beth (TV Event)
Elizabeth - Aunt Kathy (TV Event)
Kate - Aunt Carrie (TV Event)
Amy - Aunt Jenna (TV Event)
This is the first appearance of the Dancing Bear.
Allison and Kendra both return from the previous episodes.